Executive Director
Bradford has been fortunate to lead in a variety of government, corporate and nonprofit roles. His career in government includes work in both the U.S. House and Senate, as well as in the office of the governor of Georgia as director of federal affairs. Bradford has also worked for multiple corporations, most notably General Electric, where he was a graduate of the Experienced Commercial Leadership Program. While at GE, Bradford was proud to be named one of the "50 Most Influential People" in Greenville, South Carolina for his leadership on a public-private partnership between the city and more than 20 companies. After years in the private sector, Bradford joined StudentsFirst in Georgia. He took over as executive director of the South Carolina team in 2015.
Bradford has an undergraduate degree in economics from the University of Georgia and a MBA from Georgetown University. He lives in Greenville with his wife, Ashley, and their two young children, William and Charlotte.
I aspire to be like my two grandfathers. Here's why:
I was so fortunate to have had both of my grandfathers in my life until I was almost 30. Although they were very different, both set strong examples for me to follow when it comes to leadership, resilience, determination, love of family and service to one's community. I consider them my true heroes.
Why I love my job:
I love my job because it allows me to work with an amazingly talented group of people who know that if we do it right, we can make a huge difference in the lives of students in South Carolina and across the country.
My connection to public schools:
I grew up in a very supportive family that put education first. They collectively did "whatever it took" to ensure I received the best education possible. Unfortunately, I know my experience is not the case for every child. That's why I believe our work is so important.
In addition to having several teachers in my family, my great grandfather served as the principal of the local boy's public high school in my hometown for more than 20 years. To this day, I meet people who, upon hearing my last name, ask me if I'm related to "Principal Swann." He made the most of his role in the education system to inspire his students to make the most of themselves, and I hope through my work at 50CAN I can do the same.
What I'm bad at:
Spelling, which is why I love Mark Twain's quote, "Anyone who can only think of one way to spell a word obviously lacks imagination."
The image that represents why I work at 50CAN: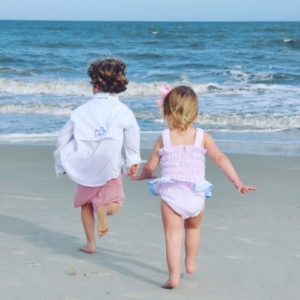 This is a photo of my children enjoying a carefree day at the beach. Like any parent, I want the very best for them, especially when it comes to education. Unfortunately, I've met too many families for which this simple and basic aspiration is out of reach because of where they live. School should be a place where every child in our country can enjoy a few carefree hours to let their knowledge and imaginations grow. It's our job to speak up for those that the system is shortchanging so that every school in our state delivers on its promise.