Parent Organizer
Cheryl is a visionary, much like her great-great-great-grandfather, who acquired 90 acres of land during Reconstruction—land her family continues to live on to this day. An organizer of community projects focused on sustainability, she has spent her career supporting family business ownership, educational opportunities, historical awareness and job preparation. Her work experience spans from working with foster children in social services to addressing student behavior issues at an alternative school. Cheryl also served on the Charleston County Board of Zoning Appeals for five years and continues to work closely with her district representative to ensure access of services to constituents. Most recently, Cheryl worked at a Charleston public school, recruiting and training parents as educators in an effort to prepare preschool children for their education.
Cheryl is the proud mother of a 13-year-old son, who boasts his ability to lead, his speed on the track, his gift of gab and his avid gaming abilities (all of which she concurs). Cheryl holds a bachelor's degree from Hampton University and a master's degree from Webster University. She is also certified as a Diversity Professional.
I aspire to be like Susan Cromwell. Here's why:
Susan Cromwell, a trailblazer, an activist and my mother, was the first in her James Island community to successfully accomplish the dividing of her family heir's property, a prevalent issue in her community where much of the land was acquired during Reconstruction and had never been subdivided. Her advocacy for what is right didn't stop there: When her friend was fired from Medical College Hospital in 1969, she put on her marching shoes in protest and went on strike in the streets of Charleston. Along with others, my mother spoke out against the unfair treatment and pay of black nurses, even at the cost of spending two weeks in jail. It's no surprise that I became an outspoken advocate at age 15, when she impressed upon me the need to stand up for what I believed in, even if it meant that I had to stand alone!
Why I love my job:
I love my job because I live my job. As the mother of a young boy who proudly goes against the grain, the issue of fighting for fair education is not new to me. I have been advocating for my own child and other children who do not fit the mold for years. Throughout our time with different school systems, I have experienced the pain of having to teach my black son the hard lesson that all children are not treated equally. Seeing the light literally dim on your baby's face when they realize not all children are seen as equals is a pain and a sight that I will never forget, and it powers my work forward every day.
My connection to public schools:
I was raised in public schools and have worked in public, charter and alternative schools throughout my life. My son has attended public, private and charter schools on the quest toward finding the right fit for him.
What I'm bad at I am bad at:
Sometimes not taking time to smell the flowers and feel the wind on my face. Sometimes I get so busy that I miss the small things that mean so much.
This image represents why I work at SouthCarolinaCAN: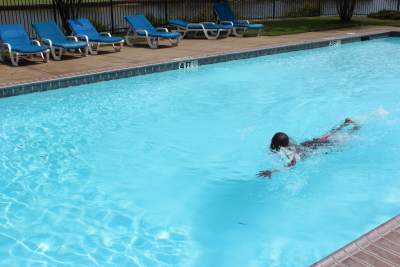 I love this photo of my son swimming happily. To me, it represents creating educational opportunities that will allow all our children to survive in a sink or swim environment.