Last Thursday, 120 moms, dads, teachers, and other folks crammed into the Kroc Center in downtown Greenville for a special event. We sat down to watch a fascinating and thought-provoking documentary called "Most Likely To Succeed." This eye-opening film tackled the great question: is our school system working?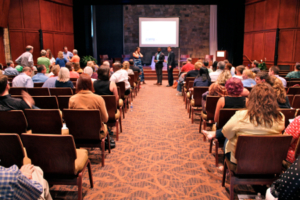 The documentary explored the history of our education system, the shifting economic and labor needs in our country, and whether our schools are preparing kids to succeed in this new and different economy.
I won't spoil it too much, but suffice it to say, you'll enjoy it.
Living in the world of education policy and education reform, I've seen a ton of documentaries, but this one in particular hit home with me. Having small children I, like any parent, want them to have the best education options possible, and this film definitely made me reflect on what those options could and should be.
After the screening, there was a great panel discussion moderated by Public Education Partners' Associate Director Ansel Sanders. Panelists Jordan Jacobson (NEXT High School, Science Pro), Jason McCreary (Greenville County Schools, Director of Accountability and Quality Assurance) and Hamilton Parks (A.J. Whittenberg Elementary School of Engineering, Instructional Coach) all spoke on the innovations underway within Greenville's schools.
If you missed this event and would like to attend future ones, be sure and follow us on Facebook and Twitter for the latest news.