This week StudentsFirstSC becomes SouthCarolinaCAN.
In my time leading StudentsFirstSC, our group of passionate advocates has made tremendous strides in working to ensure every child in South Carolina attends a great school with an excellent teacher.
But our work isn't finished.
As SouthCarolinaCAN most aspects of our organization will remain unchanged—we're still a group of South Carolinians who are committed to keeping education reform at the forefront of our state's priorities. Importantly, this change means that we will have additional resources to advocate for our teachers and schools, to provide original education news and analysis and to foster intelligent debate about the future of education reform in South Carolina.
The CAN in SouthCarolinaCAN stands for Campaign for Achievement Now. It serves as a reminder of the urgency that students require from all of us in fixing South Carolina's schools. Under our new banner, we will serve as a hub that you can trust to deliver information about our schools – and about public opinion on education matters – that wouldn't otherwise exist. Our goal is to provide relevant information that administrators, teachers, parents, legislators and the general public value throughout the state. We all have a stake in ensuring a high-quality education system.
We at SouthCarolinaCAN have already rolled up our sleeves and begun producing important work. In conjunction with our launch this week, SouthCarolinaCAN released the State of Education Report—the first statewide snapshot of student and school performance in two years. Data in this report reinforce how urgent it is to fix our schools. Recent National Assessment of Educational Progress data show how student deficiencies quickly compound. Thirty-three percent of South Carolina's 4th graders score proficient in reading. By 8th grade, that number drops to just 28 percent. When it comes to college readiness, the numbers are even more dire. Only 14 percent of South Carolina's 11th graders tested as college ready on the ACT test—including just two percent of African-American students.
A student who is falling behind because he isn't receiving adequate instruction in fourth grade needs a better classroom now. He doesn't have years to wait for a fix. Each underperforming year creates greater deficiencies, and the issues become harder to correct as time wears on. Our state needs to act now to build a culture of achievement in all of our schools.
In addition to our State of Education report, SouthCarolinaCAN also has released a scientific poll to capture public opinion on important education issues. Among the top findings of our first poll:
54 percent of South Carolinians say lawmakers should prioritize fixing our schools before they work on a bill to repair our roads.
48 percent, a plurality, of residents favor a statewide funding model that sends a disproportionate amount of money to economically disadvantaged school districts—an important step in helping them recruit and retain excellent teachers.
Speaking of teachers, a majority of respondents say that filling classrooms with great teachers – not state-of-the-art technology – should be lawmakers' top priority in fixing our schools.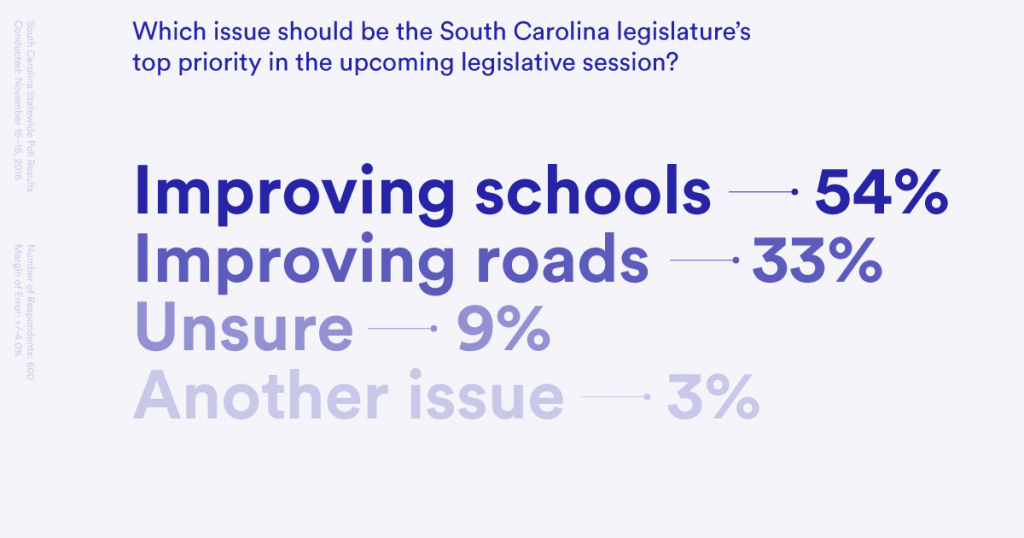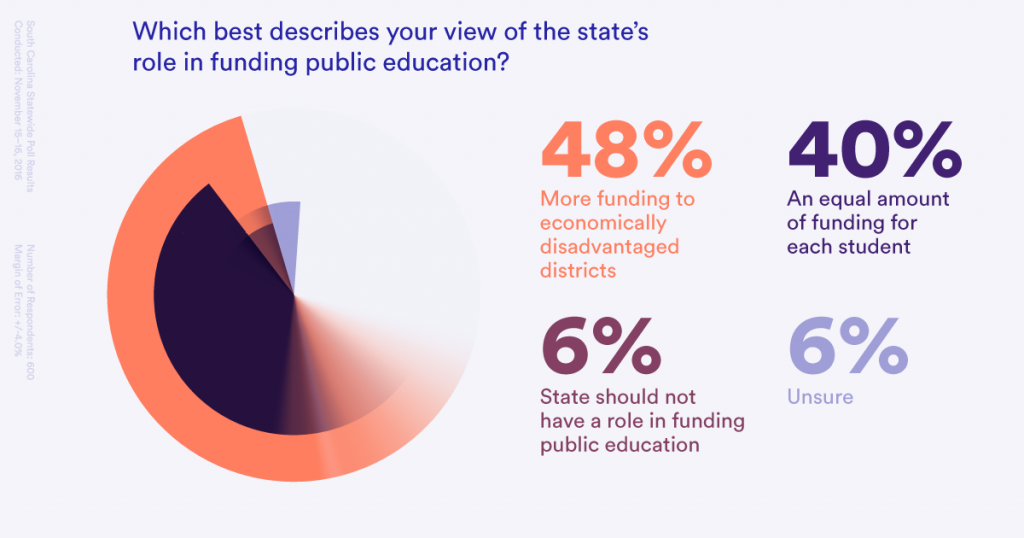 Please check out our new website, follow us on Twitter and Facebook and join us to inspire change in our schools. Also, check out our State of Education report, which is fully interactive and provides charts and graphs to track the state's progress over time. I look forward to leading SouthCarolinaCAN – and in sharing a commitment with you – to ensure that all students have an equal shot at excelling in the careers of tomorrow.