It is a wonderful feeling to walk into a classroom where students are engaged and there is a warm classroom community. I have the privilege of working with dozens of teachers in multiple schools in Charleston and I see how much time they devote to their students.
Today I want to honor an excellent teacher that I have admired for the past four years. Ericka Parker is committed to ensuring that all students' learning needs are met and goes above and beyond on a daily basis. Ms. Parker's classroom is built on a foundation of trust and high expectations. Most of the students she serves live in poverty and she works diligently to close the opportunity and achievement gap. Ms. Parker believes that all children deserve the best education to prepare them for the opportunity to go to college.
When you walk into Ms. Parker's classroom you know immediately that learning is taking place. On a typical day music is playing in the background and there is a quiet hum of student voices discussing third-grade learning targets. Ms. Parker is either working with a small group of students or conferencing one on one. She infuses joy into learning by making it hands on and fun. Ms. Parker is always positive and you can tell that she loves coming to work every day. Her attitude is infectious and even the most difficult behavior students change their outlook when they walk through her classroom door.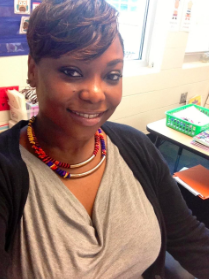 Every student deserves a great teacher like Ms. Parker. The kind of teacher who believes that all students can learn despite their backgrounds or their zip codes and has the highest of expectations. As we celebrate Teacher Appreciation Week we ought to remember that teachers should be acknowledged for their hard work on a regular basis.
Thank you to all of the Ms. Parker's out there.